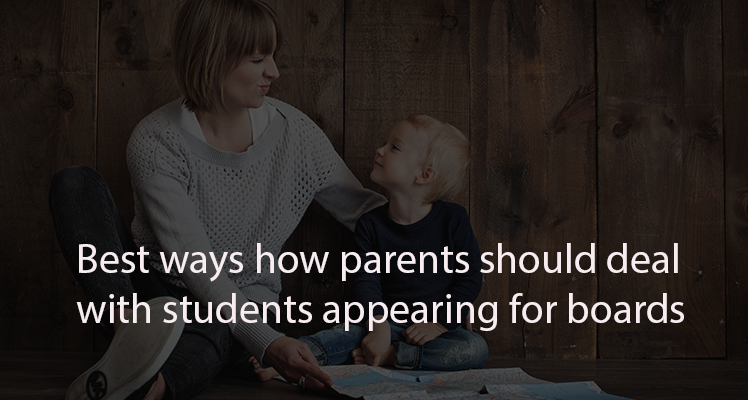 March 21st, 2018 8:36 PM
0

How important is the boards for parents? Well this is a
question which has just one answer and to reassure
You may ask any parent
Having said that we have in recent years, come across families whose children while gearing for their boards encounter a cloud of fear, anxiety in and around them which are surprisingly not their own but experienced in the family .
For a number of parents this sense of trepidation, fear leaves them feeling restless and anxious in assisting their child to successfully exchange their way through the next two weeks of exams. This flows down to their children. You are someone they look up to, creating positive impact and building confidence in them depends in your hand. In order to support your son or daughter, to give them a sensible support but not necessarily over imposing directions, hyper or overwhelming outbursts about their exam and its outcome.
There is a variety of opportunities open to all students, whether they secure high points or not, which will ultimately leave them in a position to enter their chosen career area. Very high points simply speed up the process.
Parents need to reassure their children the importance and allow them to understand the importance in a very subtle and not set out to inconvenience them out. Rather the exams are designed to enable students to demonstrate their knowledge and understanding of each topic they have explored over the past two to three years of their programme.

Certain sections within individual questions are designed to test the brightest and the best students to the absolute limit of their potential. So parents should reassure their child that success is always relative to your ability in any paper, and not to get upset if the child fines the paper impossible to complete, perhaps a section or part of a particular topic.

Know the exam schedule. Pin the exam timetable up prominently at home, with each exam to be taken highlighted.Diary the date and time of each paper your student has to take. In the stress of the whole exam period you need to be always aware when they have to be in the examination centre.
Ensure that your son or daughter is present for each exam. For parents who are working, and leaving home early,avoid the ultimate disaster of your child missing an exam. Ensure they are up and dressed before you leave home for work each morning. A small number of students regularly fail to turn up for morning papers.
Draw up a check list of daily requirements, based on the day's exams. Make a final check each morning before you leave home, so your son or daughter is fully prepared for the day's exams. Writing instruments along with the other requirements such as rulers, erasers, calculators, should be checked, along with reading glasses, water, and any non-intrusive nourishment such as glucose sweets, or fruit.
Listen to the story of the day and move on. After each day's exams allow your son or daughter to recount to you their daily story. Do not be tempted to review in detail with them any errors or omissions in the paper. Such a process achieves absolutely nothing, other than to increase the student's stress levels. Simply allow them the time and space to tell their story and move on to the next challenge, the next paper.
Help them to focus on the next challenge. It can be helpful to your son or daughter to review the paper or papers immediately ahead. Simple questions such as, what is up next? Are there any compulsory sections? Are there any predictable questions? These questions can be useful in helping your student devise a study schedule for the time available before the next exam.
Help them maintain a well-balanced daily routine. You should ensure your son/daughter has a proper balance between study and rest. After an exam they need time to rest and recharge before they can do any beneficial study for the next paper. Remember that on average this is a two-week process and they need top be as sharp on the morning of their final paper as they are today.
You are what you eat. What you eat and drink affects your performance in any activity, especially one involving mental sharpness. As a parent you should try to ensure your son or daughter has nutritious food during the coming weeks, starting with breakfast each morning, the lunch they bring with them if they are facing two exams, their evening meal, as well as snacks during the day. Grazing on junk food is very tempting at times of increased stress. Avoid this at all costs.
Late-night study sessions are not advised.
A good night's sleep improves exam performance. All study should end at least an hour before bedtime to allow the student to unwind before sleep. To help relaxation at this time, simple treats such as a hot bath, or some simple breathing exercises to slow down the body and mind can result in a refreshing night's sleep. It is not advisable to fall straight into bed from the study desk as your mind will be buzzing for hours as you attempt to get to sleep.
Parents , you are the most important aspect of your child, your child grow up with your principles and look up to you for all their decisions , boards as you all know is one of the major hurdle one faces when jumping from the education ladder onto the career ladder. We tend to hook on possibilities and nurture our children to grow up, take on the right academic decision and prove one's worth to the world.
You as parents make a great impact and help enjoy carve the stepping stone for your child. Let them prepare their boards confidently, instil the confidence. Let them make decisions and be practical in life –that is crucial and let them develop into an overall individual.
We assure to get back with more updates and latest trending education blogs
Signing off – Pranav Maheshwari.