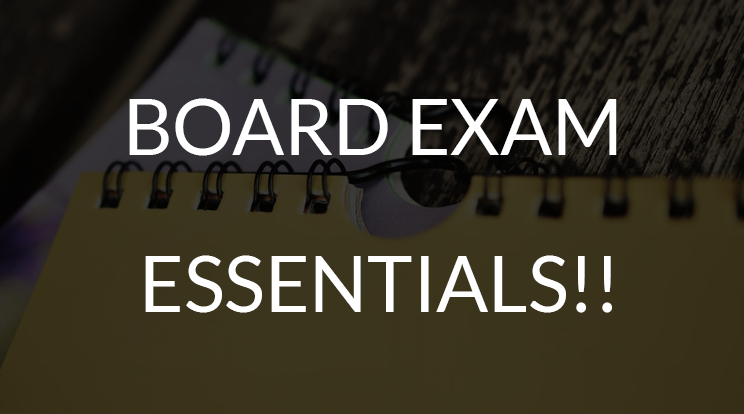 February 25th, 2018 11:12 PM
0
Top 10
Board Exam
Essentials!!
Exams are one of the most important features of achieving a structured life. Though you all will agree with me –the word "exam" itself is a daunting word which in reality is not true in any sense.

Exams are only tough when we are not prepared. All our memory tricks seems to vanish as soon as we try to recall something that is somewhere hidden under tons of heavy loaded stuffs o in our brain –Is it so ? If yes what should we do to boost our confidence, keep our memory active, and Stay fit and 100% positive?
Boost your confident with 10 B's

• Be confident of yourself – you are the best!
• Believe in the fact "I am Organized"
• Beat the rest – You are prepared
• Buy yourself some "ME TIME"
• Bring yourself to practicality – You can do it and you will
• Bury your anxiety
• Brush up time to revise
• Begin It's time to recap all important notes
• Balloon up your fear and release it in the air
• Big day Will run past – time does not stand still –it ticks on.
It is quite clear that in order to assess how much we are prepared and what our understanding is for the subject – Exams are essential. Having said that we must give us the opportunity to stay positive and confident. This will in turn reduce our stress level and put us on the correct track of excelling in each subject, since confidence will help us to focus and prepare well.
Keep yourself organized –prepare your study module not more than max 50-60 minutes .ensure you offer yourself a 10 minute break so you are able to distribute your preparation schedule and reduce the unnecessary burden of staying stressed .Beat the rest – You are prepared – and to prove that right you not only have to finish your curriculum but as well keep yourself fit and active. Donot rush for anything, give yourself time and everything will fall in place.
Buy yourself some "ME TIME" this means think about your self –donot neglect your own health or compromise of food and your personal timing, which means amidst studies and strict preparation taking out 15 mins to listen to a soothing music or just taking a stroll or talking to your friends and family is not grave – you are preparing for your boards not fighting a war.
You can only achieve good marks if you bring yourself to practicality – You can do it and you will no one can stop you. Your marks will denote your preparation , your understanding and your delivery , so donor panic be practical .In order to start being practical ; you must bury all your anxiety away to a never to see corner . believing is achieving –the only hindrance you might encounter in your stage of preparation is if you are stressed – so stay calm .Post your completion of every segment or chapter or your target curriculum – it is Brush up time – which means time to revise; During Board Exams it is important you understand the subject and not rote learn but revise n re revise that will keep your preparation up-to-date and you will not forget.
Happily begin to welcome each exam with confidence and positivity – you have had time to recap all important notes so just Balloon up your fear and release it in the air and keep the heavy positive aura around you. If you are positive –you will win half the battle before even stepping into the examination hall. Choice is all yours.
The Big day Will run past , you will not even realize how and when , trust ,me every exam will add on to your confidence , – time does not stands still –it ticks on.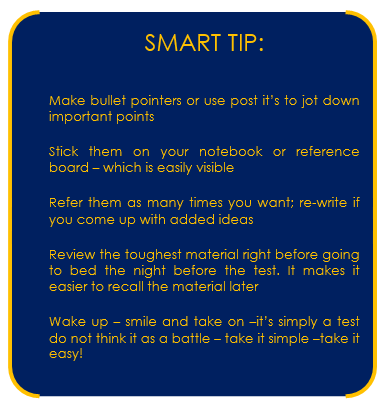 All the Best