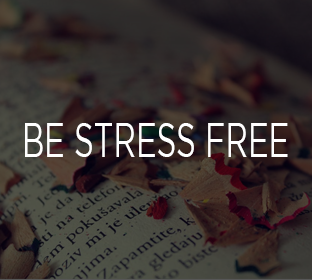 February 22nd, 2018 9:18 AM
0
Are You " STRESSED "
For Your
Board Exams ?
Do you ever feel a hot gush of air flowing through your ears, heavy head, puzzled thoughts and confused state of mind and sometimes the fear of not being able to complete your syllabus getting dominant -well if you experience or are experiencing any of the feelings stated above –consider that absolutely normal.
I remember while preparing for my boards not one but most of the thoughts mentioned above strongly gripping me from within – but that is not what I want to share today. I want to write about how I overcame all those troubling thoughts and opened the positive aspect of my life which I feel I had realized then.

Honestly, fear, stress and anxiety are negative thoughts that can either weaken you or you can weaken them –all depends on you .Just think about the situation and focus on the fact "how these situations are effecting you? If these thoughts or stress is hampering your studies during this crucial time –it isn't a good feeling at all.
Identify a corner or a chair that soothes you, take their company and settle yourself first
Push your negative thoughts out of the window and think of the best music you always yearn to listen to. If you agree more, grab your ear phones and listen to your favorite music for 10-15 minutes, your mind will be live again and most importantly prepared to take on.
Next comes how to keep this active state of your mind active and make use of it the most?
Look for the study plans that you have prepared – if you have not prepared one yet, it's time set your target on weekly basis. It is easier to achieve and accomplishing these weekly goals will build those broken pieces together and strengthen your plans.

Try not to allow your stress or negativity take over your mind and body!

Once you reach the mid-term phase of your Board appearing year – you will have a fair idea of how to handle things the next few months; your pre-boards will open up wider windows and will enable you to identify your strengths and weaknesses. Target not only on marks but how you prepare and how much you can retain? Coz' if you are able to retain more, this will mean you are more focused and this will directly show in your results. You will be more prepared after your first pre-boards since you will have a feel of how your examination is set and what are the set of question format.

We at STUDY ISLE centre emphasize that we share with our students the sample test papers and 5 years question template, so they are well practiced
You need to as well keep a strict track-my-progress chart and regularly reward your positive progression and push yourself for variance – you will certainly stay ahead of others and remain less stressed

Channelize all your stress into a productive study pattern – break down chapters , if studying pone subject makes you feel monotonous – Switch subjects – you will feel a difference .

Try not to excuse yourself from your daily set Time – Table ; even if that means studying on a day you have a headache or tummy upset – your routine will only be productive if you are disciplined .Follow a Army study routine , means no exception routine – after all you are finishing the syllabus for your benefit right ???
Never ignore the factor when you are made to understand by any of your peer, subject teacher that you lack something – accept the feedback as constructive feedback and move on.

If you want to test stress – and give it a real fight back – try this.

Go for a walk or cycle for 15 minutes, go sprinting or if you are into meditation – practice to meditate, these activities will 100% flush out stress or rather sweat our stress in less than 5 minutes. This has always worked for me.

Magic company – This is the most effective method of keeping your stresses mind away.

Should in case - you feel you are unable to combat Stress – talk to your friend, discuss in confidence with your coaching gurus and seek help of your parents, they are all experienced and trust me they never go wrong and the best part is they are always willing to help, assist so you are strong, positive and prepared to take the world.

Board Exams are similar to all other exams we encounter , ask a nursery student how it feels to memorize words , even learning the work SCHOOL is impossible , but they do it –so why can't you !

Thanks for sparing time reading my thoughts; will keep you updated with trend topics.

Till next blog; signing up.# STUDY ISLE