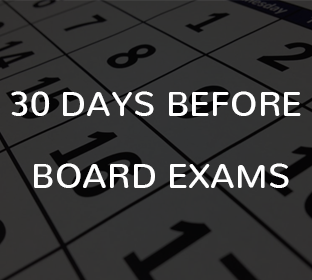 February 22nd, 2018 9:20 AM
0
30 DAYS
Before
Board Exams
How important is planning for you? Well frankly speaking it is the MOST important aspect now that we are left with just 30 days for our board exams .A well thought plan assists and allows us to remain focussed and on our toes. One who studies in random without any articulate study plan or syllabus/curriculum completion plan ends in difficult situations during board exams. Planning does not mean drawing statistics, building notes but simply implies a systematic mind map with simple bullet heads to help us through relevant tasks in an organized manner- so first tip is PLAN.
TIME MANAGING: Managing your time is the second best tip for all preparing for Board exams. Time lost is never recovered –hence be very strict with your time – try not to be tempted to use up too much on any particular answer or a chapter – even if the question hits your favorite topic. Try to analyze the weight age of every question and invest time accordingly – do not assume you have enough time for your board exams because you will be limited to 180 minutes to write all that you know.
REVISE and EXECUTE : This is a MUST-DO activity every time you are in the examination hall. Allocate 15 minutes to read what you have written, do the recommended corrections, proofread –vocalize words and correct any mistake your eyes can spot .Give yourself the best during your last 30 days preparation – remember what you practice now will mirror during your board exams!

All the three points mentioned above will only work when you will keep your anxiety, fear and stress at a distance .It is imperative to build proper study skills – focus on what you wish to do and target what you want to achieve. Luckily, studying is a short term issue which is faced by students of all age at every school –hence preparation methodologies are more or less similar –but if you do not plan, mange and execute you will not have time to recover.
Make a note, if you have a decent plan, curriculum solving plan and a time bound study system you are bound to excel since you will not miss anything, cover every topic and trust us –you will be thoroughly prepared
STOP STRESS: Stress will only make your condition worse. Just focus on things which are important and related to your studies , yet you will just conquer your fear which you unknowingly nurture in your mind but something that never exists. All you need now is to prepare, revise, and conduct self time-bound study for the upcoming board exams. Many times, stress acts as a stubborn habit, one which might deter your bright chance of excelling your exam. If you are stressed (it is actually obvious) sit down and relax and reinstate a positive thought-you are well prepared and can do well –you have 30 days to go!
KEEP THINGS HANDY: Keeping important things in specific place is vital as it is important to get hold of them as and when required –you do so, because you do not want to lose time on searching and losing concentration. It's very crucial to understand which part of the curriculum needs to be emphasized more and which less. Simple words – use your time judiciously
WHAT TO STUDY: Do remember to cover the most vital topics first. Most of the Exams typically include a centre ideas and reasoning. When you are hard pressed for time, divert all your attention and concentrate on simple pointers, HOTS questions that you'll be tested on. Emphasize on test papers, revision sheets, last 3 years exam papers, your important headings in notebook should have two columns "task to do" Task accomplished" , and those sections or topics parts your teacher mentioned frequently are simply hints for you to note and understand- jot them under the right heading and march forward.

QUESTION PATTERN: It is important to identify how does the board exam question paper look like? What is the pattern of the expected questions paper? Is it a mix of MCQs, elaborate answers, logic based etc.? Find out how much mark each section carry? If you are confused– feel free to ask your teacher. All these will certainly help you analyze and identify important segments and also understand how the paper would look.
Remember to study smarter, not harder.

REFERENCE: It is proven that our textbook, notes, online sources; class friends, teachers, and possibly your family members can all be of use. Sample Question paper can be downloaded online and also referring last few years paper is instrumental-so seek help from parents and friends to download and help you access these.

As you cover the most important last 30 days, understand, analyze, refer, talk about syllabus / curriculum share, take advice from your teachers to firm your hold on the subject, so you are fully prepared and can deliver confidently and excel your output.

These are few suggestive methods shared by our experts at Study Isle – tips that you might want to follow to achieve your studying targets and gain a higher advantage when you take your board exams! There are innumerable ways but the best way is help plan, time management and discipline routine –all these are the key aspects to follow in your last 30 days .
We are with you everywhere you need us.
Proudly assisting at